Guide on How to Clean A/C Evaporator Coils
Each year, your air conditioning system typically needs some preventive maintenance. This includes preventative maintenance on a few important components in your air handler, the AC evaporator coils, condenser coils, and air filters. You will also need to pay attention to any parts that are out of view within the air handler are free from dirt and debris. This article will shed some light on how to clean your A/C evaporator coils.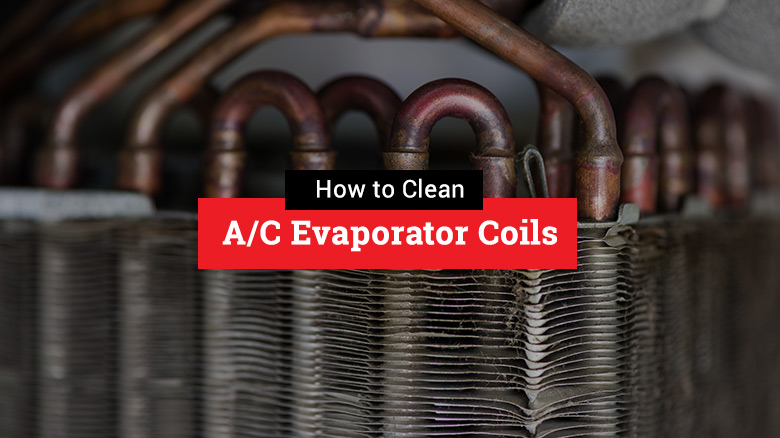 If your air conditioning system holds dirty evaporator coils, then the effectiveness of your HVAC system can diminish. This might show itself during the cooling season in the form of higher utility bills. It may also display itself as decreased heat transfer, more wear on the system, or heat from the air when it should be cold. If you notice either of these signs, then you need to ensure that you clean the AC evaporator coils immediately.
What Are Evaporator Coils?
Evaporator coils pull the heat from inside your home and are found on the indoor AC unit. Although also a coil, condenser coils work to bring air from the outdoor unit. Those coils are made from copper and are surrounded by aluminum fins that increase heat transfer.
Crucial to the cooling of your HVAC system, evaporator coils create the cold air that remains inside of your home when temperatures rise. Without evaporator coils, you would not have the feature of dehumidification from your air conditioner. This is facilitated by the coils becoming cool, and eliminating the water from the air inside your house. This water is then collected in a drain plan and disposed of elsewhere. The evaporator coil of a split-system A/C can be found inside the air handler. This is usually located in a garage or basement, but can also be found in a utility closet or attic. Remove the screws, and then you should be able to remove the access panel on the air handler. Here you will find the evaporator coil.
Preventative Measures
The best way to avoid the negative impact of dirty evaporator coils is to put preventive measures into place. This includes coil coating. Coil coating can protect your evaporator coils from corrosion and grime. Not only will this make your HVAC unit run more efficiently, but it will protect the coils from gathering airborne particles. This leads to the requirement for fewer cleanings and more efficiency.
Why Clean A/C Evaporator Coils
Cleaning evaporator coils at least once per year should be an essential item on your to-do list. A dirty evaporator coil means that the air flowing over the coils can hold allergens such as dust and pollen, which is not only dangerous but will decrease their effectiveness and lifespan.
How to Clean A/C Evaporator Coils
Cleaning evaporator coils is not too difficult of a process, but you may want to consider hiring an HVAC contractor for professional cleaning. This can make it a much less stressful situation and will ensure the cleaning process is done properly.
Doing it Yourself
If you enjoy a DIY project, then cleaning your evaporator coils is possible. Despite this, it can be difficult and you run the risk of damaging the AC components.
Step 1: Located your evaporator coil
Step 2: Brush away debris build-up with a soft brush
Step 3: If more debris remains, use a soft cloth to wipe away the debris
Step 4: Use an air compressor to blow away debris if possible. Alternatively, you can use a can of compressed air.
Step 5: Use a self-cleaning spray foam, and ensure it is safe to use with plastic drainage components.
Hire a Professional
If you do not want to take the risk of damaging your HVAC coils, then hiring a professional is always a good plan.
Coil Replacement
In the event of serious issues, a coil replacement may be necessary. This can make the entire process easier, and help you to avoid further complications. Typically refrigerant flows through the evaporator coils and wears down the inner lining, requiring the need for replacement. The main reason that you might need to replace an evaporator coil is if it has failed due to this erosion.
You can take the risk of cleaning the evaporator coil yourself, or you can leave it in the hands of a trusted professional. At Rahn Industries we offer both replacement coils and protective coatings. Choose from a variety of options to replace your coils, and follow up with a coil coating. These preventative measures will allow you to increase the longevity of your coils, and save money in the long run.