Complete Cost Guide for AC Evaporator & Condenser Coil Replacement
If you own an AC unit, you may have noticed it slowing down or not working like it used to. Often this is because you need to replace one of the coils, or do other maintenance work on your AC unit. By understanding the different costs involved, you will be able to be informed when you are making decisions regarding your AC unit. Use this article as a guide for AC Evaporator & Condenser Coil Replacement Cost.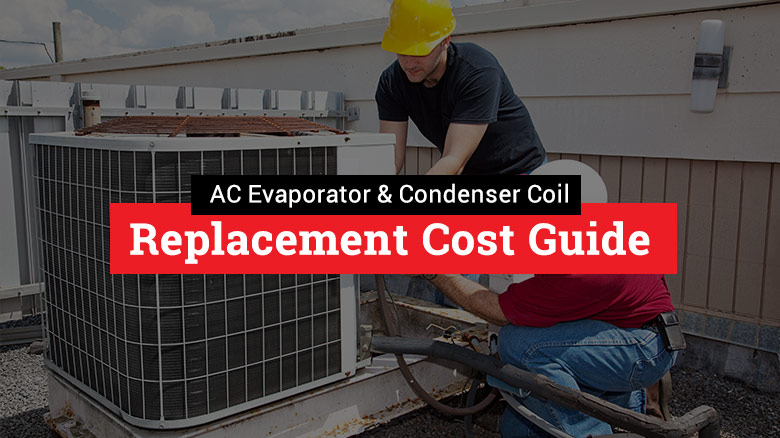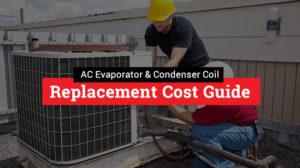 Read through the rest of this article to understand costs on both evaporator and condenser coil replacement, as well as other associated parts. You can also find tips that help you decide whether or not you should repair, versus replace your unit.
Understanding AC Condenser Coils and Your AC System
AC Evaporator & Condenser Coil Replacement Costs
You might have seen a square-shaped, large box that sits outside your home. This plays an incredibly important part when it comes to heat transfer. It takes the refrigerant gasses and converts them into liquid form by way of the compressor. This process actually cools the refrigerant, which in turn releases the heat that came from your home. All the different parts of your AC unit work together to make it function effectively, these parts include:
Compressor: Pressurizes the refrigerant into a gas. This pushes it along the cooling loop.
Condenser: Converts gas into a liquid which forces it to release the heat it has stored.
Evaporator: Absorbs the heat from inside your house. This happens as the liquid flows through the evaporator coil and evaporates into a gas. Then it moves outside your home to the condenser to repeat the process.
Condenser Coil Costs
The unit that sits outside your home is called the condenser, or condensing unit. It is called a condensing unit because the refrigerant that carries heat from inside your home will be condensed in the coil that is located inside your AC unit.
When this occurs, the heat is essentially wrang out of it. The heat flows through the coil fins and is scattered by the fan.
If you have been told by an HVAC professional that you require a new condenser coil (also known as an outside coil) then you might be interested to find out the general cost for this. As an HVAC coil manufacturer, Rahn Industries can offer valuable insight into the cost of this replacement.
Condenser coil costs vary when looking to replace one in your HVAC, but can be found in the range below.
| | | | |
| --- | --- | --- | --- |
| Coil Capacity | Part Only | Installation Cost | Total Costs |
| 1.5-2.0 ton | $575 – $800 | $475 – $650 | $1,050 – $1,450 |
| 2.5 ton | $625 – $975 | $535 – $750 | $1,160 – $1,725 |
| 3.0 ton | $735 – $1,055 | $600 – $835 | $1,335 – $1,890 |
| 3.5 ton | $775 – $1,025 | $775 – $985 | $1,550 – $2,010 |
| 4.0 ton | $855 – $1,360 | $840 – $1,075 | $1,695 – $2,435 |
| 5.0 ton | $1,000 – $1,595 | $950 – $1,200 | $1,950 – $2,795 |
What to Consider When Replacing a Condenser Coil
When having your condenser coil replaced, you will need all the remaining refrigerant to be removed from the system. It will also need to be disposed of properly, along with your oil coil. Finally, you should have new refrigerant added to your AC unit and test the system.
Although there are many different prices when it comes to condenser coil replacement, there are many factors that will influence your final cost: if your manufacturer's warranty is still active, then you won't need to pay for the cost of the replacement part. Alternatively in some cases, you may have a home warranty that covers HVAC repair. If this is your situation, then you most likely will only need to pay a portion of the parts and labor costs. Similar to purchasing tin foil from the market, you will find different types of coils that can be considered brand or generic. Spine fin and microchannel coil replacements are always manufactured by the brand. Typically standard coils are always generic, but you can use brand-name replacement parts as well. There are three different types of condenser coils. The first is the Standard Coil which is the lowest in cost. The Spin Fin Coil is in the mid to high range and, finally, the Microchannel coil is the most expensive.
The larger your unit's size is, the greater its capacity. Additionally, the larger a unit's capacity, the more the repair will cost. This is due to the part being larger, and it also requires more refrigerant which is expensive. Depending on where you live, the HVAC repair prices will vary. This means that if you live somewhere that generally has a high cost of living, your coil repair costs will increase as well.
Evaporator Coil Costs
Also known as the indoor coil, your evaporator coil holds refrigerant inside the tubing within the coil. This refrigerant evaporates when passing through a valve and collects heat from the air that goes over it. After the air is cold, it will then be pushed through into your home. As heat is removed from the air, the evaporator coil cools the air around it. Finally, moisture in the air condenses on the coil and will run into a drain. This not only cools the air but also dehumidifies it.
There is a huge range when it comes to evaporator costs.
| | | | | |
| --- | --- | --- | --- | --- |
| Coil Capacity | Uncased | Cased | Installation | Total Cost* |
| 1.5-2.0 ton | $185 – $565 | $340 – $825 | $400 – $595 | $585 – $1,415 |
| 2.5 ton | $230 – $780 | $425 – $985 | $445 – $650 | $675 – $1,635 |
| 3.0 ton | $265 – $1,000 | $500 – $1,350 | $515 – $675 | $780 – $2,025 |
| 3.5 ton | $300 – $1,115 | $565 – $1,475 | $550 – $725 | $850 – $2,200 |
| 4.0 ton | $410 – $1,240 | $695 – $1,600 | $595 – $750 | $1,005 – $2,350 |
| 5.0 ton | $430 – $1,395 | $875 – $1,725 | $665 – $925 | $1,540 – $2,650 |
Types of Evaporator Coils
Uncased: These coils are installed inside of ductwork or a furnace cabinet. Typically if you are only replacing a coil, then you will use an uncased coil.
Cased: Cased coils have their own cabinet, and would be replaced if you were also installing an air handler or other part on your HVAC.
Evaporator Coil Shapes
A-coils: These look like an "A" and are the most common shape you will find. They are sloped and allow the moisture to condense on the coil before running into the drain.
Slab coils: Flatter than other coils, these coils are used when your HVAC system is horizontal.
N-coils: Because these coils have another area for heat to transfer, these are more efficient and are the most expensive.
Repair vs Replacement
It can be difficult to decide when it is a better choice to repair your unit versus replace it. There are different pros and cons to each, and sometimes one is needed over the other.
Condensing Coils
Regarding condensing coils, it is often necessary to replace your entire AC unit if it is not under warranty when your condensing coils fail. Often this is because replacing a condensing coil can be extremely expensive. Additionally, when you replace the unit you will also be given a new warranty. This will eventually cover the costs and give you a new great product.
Evaporating Coils
If your HVAC unit is less than 10 years old and seems to be working well, then your best choice is to replace your evaporator coil. If you are attempting to keep costs down, then you can use a universal replacement coil. If your HVAC unit is over 10 years old and you have already repaired it, then replacement may be the better option.
Making Your Decision
After reading the AC Evaporator & Condenser Coil Replacement Cost Guide and still having a bit of trouble deciding which types of coils you need, what the trouble is with your HVAC unit, or whether you should repair or replace, contact us today. We can help you decide what you need, the parts that fit into your budget, and if you should make the decision to repair or replace it.