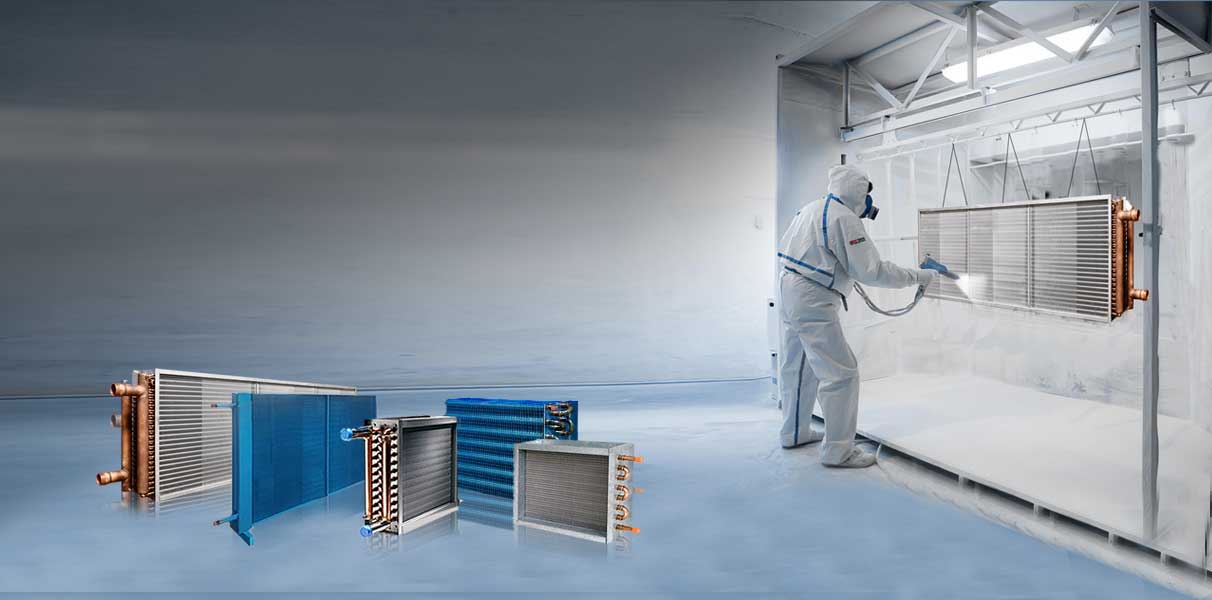 Your HVAC system is critical to the operation of your business or property. You want your system to last as long as possible. One of the most critical parts of an HVAC system is the coil or heat exchanger. These components are critical because they are what transfer the heat, which keeps your building comfortable.
In certain environments (marine, industrial, agricultural, or areas where there are harsh chemicals) the heat changers can corrode very quickly, losing efficiency and capacity. This can be very costly in terms of energy consumption and can cause expensive repair bills.
The solution to this problem is applying a protective coating. We apply several different coil coatings to protect HVAC coils from corroding, to add life to your air conditioning and heating system and help it maintain its efficiency. We are the best coil coating company in the industry. We have been serving the coating business longer than anyone in California.
At Rahn Industries, it is our mission to make your HVAC system last longer than you thought possible. We want you to be able to keep your building comfortable for years to come. Season after season, year after year we want you to be able to rely on your Rahn Industries protective coating.
For years we have been providing the best coatings for HVAC systems in the industry We offer the best coating services in the industry. Whatever you need, we have an expert who can explain to you the very best coating for your HVAC system.
PoluAL XT Characteristics
Top coat / Aluminum Impregnated Polyurethane
Color / Gold
Dry fin thickness / 25 Microns = 1 Mil (Approx.)
Dry Temperature Rating / 4°F – 302°F (-20°C – 150°C)
Excellent resistance to acid and corrosion
High solids, Low VOC
Resists high humidity and moisture
Applied by brush, roller or spray without thinning
Outstanding resistance to chemical splash and spill
Blygold PoluAl XT Engineering Specifications
The condenser (and/or) evaporator coil shall be coated with Blygold PoluAl XT by a certified licensed applicator.
The coating product manufacturer shall be able to document a class 5B result on a Cross Hatch Adhesion Test (ASTM D5339) and the successful completion of accelerated product testing for a minimum 4000 hours in both salt spray (ASTM B117) and acid salt spray (ASTM G85) test.
The coating service provider shall also be able to offer a 3-year conditional warranty for the coating applied on finned-tube coils. Blygold PoluAl XT aluminum impregnated polyurethane coil coating shall be applied insuring total penetration and coverage without bridging or significantly affecting the heat transfer ability of the coil.
The total dry film thickness of the coating shall be 1 mil (25 microns). The coating shall provide inherent protection against ultra-violet radiation and have a dry temperature resistance from -4°F to 302°F (-20°C to 150°C).
Review our Heat Exchanger Replacement Cost Guide.