How to keep heat from escaping your building
Monitor Air Leakage, Missing Insulation, HVAC Systems
Windows/Doors: Windows and doors are constantly letting air in due to the type of glass used, the way they are constructed, and how well they are placed into a home.
Walls: If they are not properly insulated, walls can be a major issue. Normally, heat is lost through conduction through the walls or through intimate contact with cooler exterior settings (in other words, the outdoors is just on the other side of the wall).
Attics: Heat loss in attic spaces is mostly caused by cracks, holes, and vent placement. You run the risk of losing a large amount of heat when you consider that heat rises.
Basement/Floors: Because they are built of concrete, basement walls and floors frequently don't have the required insulating qualities. As concrete has a low R-Value (which we will discuss shortly), heat can easily escape this space.
HVAC Systems: Lack of maintenance, dirty filters, thermostat malfunctions, mechanical wear, dirty condenser or evaporator coils can all lead to performance issues with the heating/cooling of your commercial building.
Find the Source of Heat Loss
Heat loss and air leakage through gaps, apertures, and cracks. Heat loss from any holes that enable hot air to escape can be substantial. Also, these gaps could let chilly air into your building. Furthermore, air and heat loss can happen around windows, doors, and their frames, as a result of often opening and closing exit and entrance doors, as well as in big spaces like warehouses that call for open bays. A structure that uses a fuel-burning furnace or boiler will need an exhaust system to get rid of carbon monoxide and other potentially dangerous gases. Many commercial activities also require additional ventilation. These systems are easily susceptible to heat loss.
Understand Issues with Heat Loss
Costs that are not required: If heat escapes from your building, it signifies that you have paid to produce warm air that is not required. Even worse, in order to make up for the loss, your HVAC system must produce extra warm air. This results in large increases in your monthly heating costs and energy and financial waste.
Heating inconsistency: Your indoor rooms will have uneven warmth, resulting in chilly spots and other uncomfortable regions for your staff and clients.
Equipment wear: As your HVAC parts/system strives to keep up with heat loss, the equipment will endure unnecessary wear. As a result, the system's lifespan will be shortened, costly repairs would be required, and breakdowns will happen more frequently.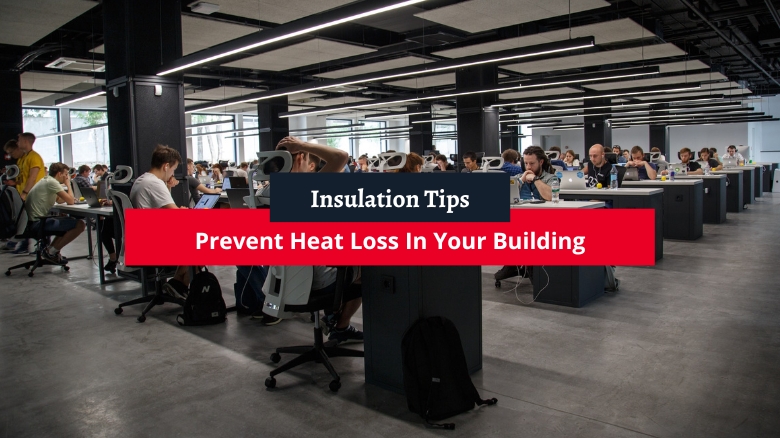 How to Stop or Prevent Heat Loss in your Commercial Building
An excellent starting point in the fight against heat loss is a commercial energy audit. Without an audit, you won't be able to locate and fix some of the larger and more noticeable air leaks, an energy audit will locate even the most well-hidden sources of heat loss and air leaks.
All cracks, openings, and leaks discovered during the energy audit should be filled up and caulked in order to seal the building's envelope. Improve the insulation in your commercial building's walls, floors, and ceilings. This can involve filling wall cavities, attics, and other hard-to-reach or oddly shaped spaces with foam insulation or loose-fill insulation or adding extra blanket-style insulation between joists and beams in the walls or floors. Improved insulation will significantly cut down on heat loss.
Ensure that the ductwork is in good condition and that all of the pieces fit tightly together. Insulation for ductwork should be provided by rigid fiber board or blanket insulation. Ensure that duct sections are sealed using metal tape, mastic, or a specialist sealant.
Verify that your commercial HVAC systems are in good condition and performing to the needs of your building. Listen for any odd noises, such as banging or hissing, these may point to issues. Always check the HVAC system itself for water stains, cracks, rust, dents, and any issues.