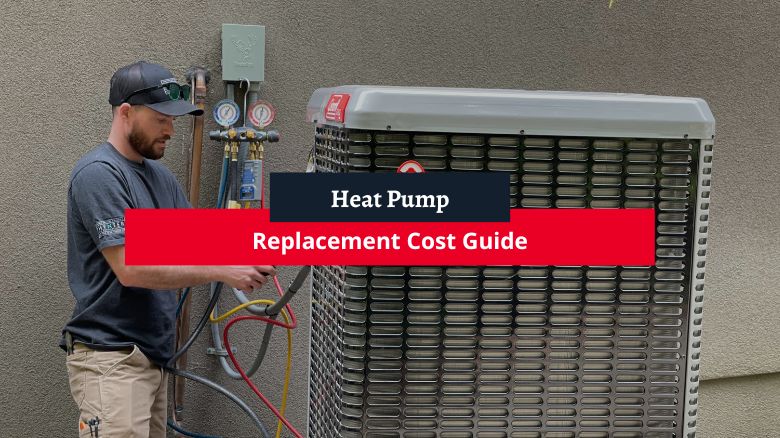 Understanding Heat Pump System
Heat Pump Costs
What to Consider When Replacing a Heat Pump
Heat Pump Additional Costs
Heat Pump Repair vs Replacement
Understanding Heat Pump System
In the realm of modern HVAC (Heating, Ventilation, and Air Conditioning) technology, heat pump systems have emerged as a groundbreaking solution for both residential and commercial spaces. These systems offer efficient and versatile heating and cooling capabilities, allowing users to maintain comfortable indoor temperatures while minimizing energy consumption and environmental impact. In this article, we will delve into the workings of heat pump systems, their benefits, and their various applications.
How Heat Pump Systems Work: The Basics
At its core, a heat pump is a device that transfers heat from one location to another using a refrigeration cycle. Unlike traditional heating systems that generate heat through combustion or electric resistance, heat pumps use the principles of thermodynamics to move heat from a lower-temperature area (the source) to a higher-temperature area (the sink). This process can be reversed to provide both heating and cooling functions, making heat pump systems highly versatile.

A heat pump system typically consists of four main components:
Evaporator: This component is located indoors and absorbs heat from the surrounding environment. It contains a refrigerant that evaporates as it absorbs heat, turning into a low-pressure, low-temperature gas.
Compressor: The evaporated refrigerant gas is compressed by the compressor, increasing its temperature and pressure. This high-energy gas is then pumped to the condenser.
Condenser: The condenser is located outdoors and releases the absorbed heat into the outdoor environment. As the high-pressure, high-temperature refrigerant gas condenses, it releases its heat energy to the surrounding air or water.
Expansion Valve: The high-pressure refrigerant is then passed through an expansion valve, which reduces its pressure and temperature, turning it back into a low-pressure, low-temperature gas. This completes the refrigeration cycle and allows the process to repeat.
Heating and Cooling Modes
Heat pump systems can operate in two primary modes: heating and cooling.
Heating Mode: During the heating mode, the heat pump extracts heat from the outdoor air (even in cold temperatures) or from the ground through a ground-source heat pump (geothermal). This heat is then transferred indoors to warm the living or working space.
Cooling Mode: When in cooling mode, the heat pump works in reverse. It extracts heat from indoor air and releases it outdoors, effectively cooling the indoor space.
Benefits of Heat Pump Systems
Energy Efficiency: Heat pumps are renowned for their energy efficiency. They don't generate heat but instead move it, requiring significantly less energy compared to conventional heating and cooling systems.
Year-Round Comfort: Heat pumps provide both heating and cooling, offering year-round comfort with a single system.
Environmental Impact: Since heat pumps rely on transferring heat rather than burning fossil fuels, they produce fewer greenhouse gas emissions and contribute to lower carbon footprints.
Cost Savings: While the initial installation cost of a heat pump system might be higher, the long-term energy savings often make up for it.
Durability: Heat pump systems are built to last and require less maintenance compared to traditional heating and cooling systems.
Applications of Heat Pump Systems
Residential Buildings: Heat pumps are increasingly popular in homes for their energy efficiency and versatile heating and cooling capabilities.
Commercial Spaces: Offices, retail stores, and other commercial buildings can benefit from heat pump systems for maintaining comfortable indoor environments.
Industrial Processes: Heat pumps are used in various industrial applications, such as drying processes, food preservation, and chemical processing.
Swimming Pools: Heat pumps are employed to heat swimming pools, extending the swimming season and maintaining water temperatures.
Hot Water: Heat pumps can be used for heating domestic hot water, providing an energy-efficient alternative to traditional water heaters.
Heat pump systems stand as a remarkable advancement in HVAC technology, offering efficient and versatile heating and cooling solutions for a wide range of applications. Their ability to transfer heat rather than generate it, along with their environmental benefits and cost savings, positions them as a key player in the pursuit of sustainable and energy-efficient living. As technology continues to advance, heat pump systems are likely to play an even more significant role in shaping the future of indoor climate control.
Heat Pump Costs
Navigating Heat Pump Costs in the Commercial Sector: Budgeting for Efficient Climate Control
In the realm of commercial spaces, maintaining a comfortable and conducive environment for employees, customers, and operations is paramount. One technology that has gained prominence in recent years for achieving this goal while also being energy-efficient is the commercial heat pump system. In this article, we'll delve into the various factors that influence the cost of commercial heat pump systems and provide specific numbers to help businesses budget effectively.
Understanding Commercial Heat Pump Systems
Commercial heat pump systems are designed to regulate the temperature of large spaces, such as office buildings, retail outlets, warehouses, and industrial facilities. These systems leverage the principles of heat transfer to provide both heating and cooling capabilities, ensuring year-round comfort while minimizing energy consumption.
Factors Influencing Commercial Heat Pump Costs
Several factors contribute to the overall cost of installing and operating a commercial heat pump system. Here are some key considerations:
System Capacity: The size of the space being conditioned plays a significant role in determining the required capacity of the heat pump system. Larger spaces require more powerful systems, which can impact both the initial cost and operational expenses.
Type of Heat Pump: There are different types of commercial heat pump systems available, such as air-source, water-source (geothermal), and hybrid systems. The type you choose will affect installation costs and energy efficiency.
Installation Complexity: The complexity of the installation process can impact costs. Factors such as accessibility, ductwork modifications, and electrical work can all contribute to the final price.
Energy Efficiency: Higher-efficiency heat pump systems might have a higher upfront cost but can lead to significant energy savings over the system's lifespan.
Additional Features: Some heat pump systems come with advanced features like zoning capabilities, smart thermostats, and humidity control. These features can add to the overall cost.
Geographical Location: The climate of your location can influence the size and efficiency requirements of the heat pump system. Cold climates might necessitate more powerful systems, potentially affecting costs.
Maintenance and Service Contracts: While not part of the initial installation cost, factoring in ongoing maintenance and service contracts is important for the system's longevity and efficient operation.
Cost Breakdown: Commercial Heat Pump Systems
To provide a rough estimate, let's consider the average costs of installing commercial heat pump systems:
Initial Installation: The initial installation cost can vary widely based on the factors mentioned above. On average, for a small to medium-sized commercial space, you might expect to pay between $15,000 to $30,000 for a basic air-source heat pump system. For larger spaces or more complex installations, the cost could range from $30,000 to $60,000 or more.
Ongoing Operation: While the initial cost is a crucial consideration, it's equally important to calculate the operational expenses over the system's lifespan. High-efficiency systems can lead to substantial energy savings, potentially saving thousands of dollars per year.
Maintenance and Repairs: Budgeting for regular maintenance and potential repairs is essential. Annual maintenance costs can range from $200 to $500, depending on the system's complexity.
Service Contracts: Many manufacturers and HVAC companies offer service contracts for ongoing maintenance and emergency repairs. These contracts can range from a few hundred to over a thousand dollars per year.
Investing in a commercial heat pump system is an investment in energy efficiency, comfort, and long-term savings. By carefully considering the factors that influence costs and factoring in ongoing expenses, businesses can make informed decisions about the type and size of heat pump system that best suits their needs. While the initial investment might seem significant, the benefits of reduced energy consumption, improved indoor climate, and potential tax incentives can make commercial heat pump systems a valuable asset for any commercial establishment.
What to Consider When Replacing a Heat Pump
When the time comes to replace your heat pump, whether due to age, inefficiency, or malfunction, it's crucial to approach the process with careful consideration. A heat pump is a significant investment in your home's comfort and energy efficiency, and making informed decisions during the replacement process can lead to long-term benefits. In this article, we'll explore the important factors to consider when replacing a heat pump.
Assessing the Need for Replacement
Before diving into the replacement process, it's important to determine whether a replacement is indeed necessary. Here are a few signs that it might be time to replace your heat pump:
Age: Heat pumps typically have a lifespan of 10 to 15 years. If your heat pump is nearing or past this age range, it's worth considering an upgrade, especially if it's showing signs of decreased efficiency.
Decreased Efficiency: If your energy bills have been consistently increasing, and your heat pump seems to be struggling to maintain desired temperatures, it might be operating at reduced efficiency.
Frequent Repairs: If you find yourself frequently calling for repairs, the cumulative costs might make replacement a more cost-effective option.
Inconsistent Performance: If your heat pump is struggling to keep your home comfortable, with uneven temperatures or inadequate heating/cooling, it might be time for an upgrade.
Key Considerations for Replacement
Type of Heat Pump: Determine whether you want to replace your current heat pump with the same type (air-source, geothermal, or ductless mini-split) or explore alternatives that might better suit your needs.
Energy Efficiency: Look for a heat pump with a higher SEER (Seasonal Energy Efficiency Ratio) rating for cooling efficiency and an HSPF (Heating Seasonal Performance Factor) rating for heating efficiency. A more efficient heat pump can lead to lower energy bills.
Size and Capacity: Ensure that the new heat pump is appropriately sized for your home's heating and cooling needs. An oversized or undersized heat pump can lead to inefficiency and discomfort.
Installation Requirements: Consider any modifications or upgrades needed for the installation. This might include ductwork adjustments, electrical work, or even the installation of a new thermostat.
Technology and Features: Explore the latest features and technologies available in modern heat pump systems. This might include smart thermostats, zoning capabilities, and advanced humidity control.
Budget: Determine your budget for the replacement, factoring in the cost of the heat pump, installation, and any additional requirements.
Warranty: Check the warranty offered by the manufacturer. A longer warranty period can provide peace of mind and indicate the manufacturer's confidence in their product's longevity.
Contractor Selection: Choose a reputable HVAC contractor to handle the installation. Look for experienced professionals who can ensure proper installation and system performance.
Environmental Impact: If sustainability is a priority for you, consider environmentally friendly options and systems that use refrigerants with lower global warming potential.
Installation Process and Aftercare
Once you've made your decisions and chosen a replacement heat pump, it's important to be prepared for the installation process. Clear communication with your chosen contractor is key. Additionally, after installation, regular maintenance is crucial to ensure the new heat pump's longevity and efficiency.
Replacing a heat pump is a significant decision that can impact your comfort, energy bills, and overall indoor environment. By assessing the need for replacement, considering efficiency, size, budget, and technology, and working with a reliable contractor, you can make the transition to a new heat pump as seamless as possible. A well-informed replacement process can lead to years of efficient and comfortable heating and cooling in your home.
Heat Pump Additional Costs
Heat pump systems have gained popularity for their energy efficiency, versatility, and year-round comfort. However, when considering the installation of a heat pump, it's essential to understand that there are additional costs beyond the initial purchase and installation. In this article, we'll delve into the various additional costs associated with heat pump systems, helping you make an informed decision about this investment.
1. Installation and Labor Costs
While the initial purchase price of a heat pump is a significant consideration, the installation and labor costs are equally important. These costs can vary based on factors such as the type of heat pump, the complexity of the installation, and the location of your property. It's recommended to obtain quotes from reputable HVAC contractors to get a better understanding of the potential installation costs.
2. Ductwork Modifications
If you're replacing an existing HVAC system with a heat pump, you might need to make modifications to your existing ductwork. Ductwork adjustments can include resizing, sealing, or even adding new ducts to ensure optimal airflow and efficiency. The cost of ductwork modifications will depend on the extent of the changes needed.
3. Electrical Upgrades
Heat pump systems require a dedicated electrical circuit to operate efficiently and safely. If your current electrical system doesn't meet the requirements for the new heat pump, you might need to invest in electrical upgrades. This could involve adding a new circuit, upgrading the electrical panel, or improving the wiring to accommodate the heat pump's power needs.
4. Thermostat Upgrades
While some heat pump systems come with their own thermostats, you might choose to upgrade to a smart thermostat for enhanced control and energy savings. Smart thermostats allow you to program and remotely control your heat pump, optimizing its performance and reducing energy consumption. Keep in mind that the cost of a smart thermostat should be factored into your overall budget.
5. Regular Maintenance
Maintaining your heat pump is essential to ensure its longevity and efficient operation. Regular maintenance, including annual inspections, filter replacements, and system tune-ups, can incur costs. However, investing in maintenance can save you money in the long run by preventing breakdowns and ensuring optimal efficiency.
6. Extended Warranties
While most heat pump systems come with standard warranties, you might have the option to purchase extended warranties for additional coverage. Extended warranties can provide peace of mind, as they cover potential repairs and replacements beyond the standard warranty period. Consider the cost of an extended warranty and evaluate whether it aligns with your long-term maintenance plans.
7. Energy Consumption
While not a direct upfront cost, it's important to consider the ongoing energy consumption of your heat pump system. Different types of heat pumps have varying energy efficiency ratings (SEER and HSPF), which can affect your energy bills. A more efficient heat pump might have a higher initial cost but can lead to lower energy expenses over time.
8. Repair and Replacement Costs
Even with proper maintenance, wear and tear over time can lead to the need for repairs or component replacements. It's wise to budget for potential repair and replacement costs that might arise during the lifespan of your heat pump system.
When budgeting for a heat pump system, it's crucial to consider the various additional costs beyond the initial purchase price. Installation and labor, ductwork modifications, electrical upgrades, thermostat enhancements, maintenance, warranties, energy consumption, and potential repairs are all factors that contribute to the overall cost of owning and operating a heat pump. By factoring in these costs and planning accordingly, you can make a well-informed decision that aligns with your budget and long-term goals for energy-efficient heating and cooling.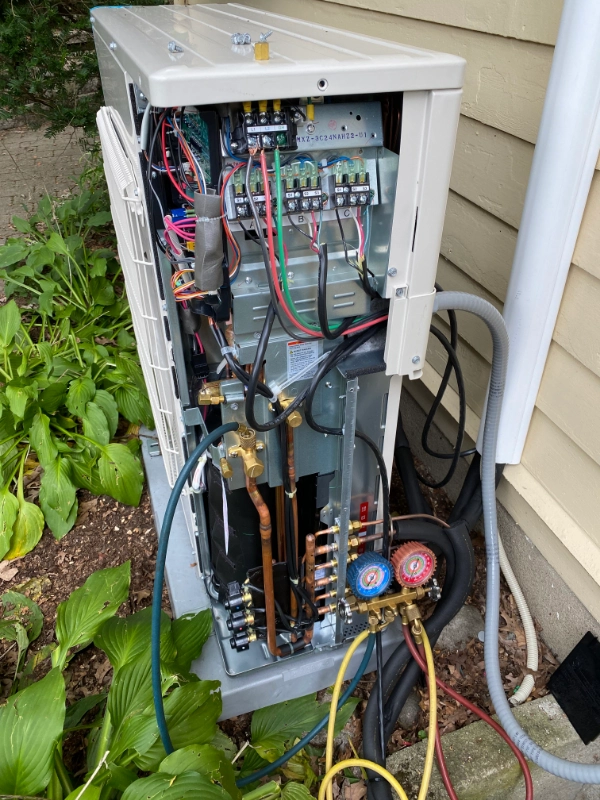 Heat Pump Repair vs Replacement
When your heat pump starts exhibiting signs of trouble or isn't performing optimally, you're faced with a crucial decision: should you opt for repairs or consider a full replacement? Both options have their pros and cons, and making the right choice requires careful consideration of various factors. In this article, we'll explore the key considerations when deciding between heat pump repair and replacement.
1. Age of the Heat Pump
One of the primary factors influencing the repair vs. replacement decision is the age of the heat pump. Heat pumps generally have a lifespan of 10 to 15 years. If your heat pump is nearing the end of its expected lifespan and requiring frequent repairs, it might be more cost-effective in the long run to replace it with a newer and more efficient model.
2. Cost of Repairs
Evaluate the cost of the necessary repairs. If the repair costs are relatively minor and the overall health of the heat pump is good, repairing might be a viable option. However, if the repairs are extensive and costly, it might make more financial sense to invest in a new heat pump that comes with a warranty and improved efficiency.
3. Energy Efficiency
Consider the energy efficiency of your current heat pump. Older models might be less efficient compared to newer ones, resulting in higher energy bills. Newer heat pump models often come with improved technology and higher SEER (Seasonal Energy Efficiency Ratio) ratings, leading to lower energy consumption and reduced operating costs.
4. Frequency of Repairs
If you find yourself calling for repairs frequently, it might be an indication that your heat pump is becoming less reliable and is nearing the end of its operational life. Frequent repairs can add up in terms of both time and money. In such cases, replacing the unit could provide more peace of mind and better long-term reliability.
5. Environmental Considerations
If you're concerned about environmental impact, it's worth noting that newer heat pump models are designed to be more eco-friendly. They often use refrigerants with lower global warming potential, contributing to a reduced carbon footprint.
6. Long-Term Costs
While a repair might seem like the less expensive option upfront, it's important to consider the long-term costs. If you're facing recurring repair bills and the heat pump's efficiency is diminishing, a replacement might ultimately be the more cost-effective choice.
7. Comfort and Performance
If your current heat pump is struggling to maintain a comfortable indoor temperature or is not performing as effectively as it used to, replacement could lead to improved comfort and performance. Newer models offer better control over indoor climate and air quality.
8. Tax Incentives and Rebates
Check if there are any available tax incentives, rebates, or utility incentives for upgrading to a more energy-efficient heat pump. These incentives can offset the initial cost of replacement and make it a more appealing option.
Ultimately, the decision between heat pump repair and replacement depends on a combination of factors including the age of the unit, repair costs, energy efficiency, frequency of repairs, long-term costs, and your comfort and environmental considerations. Consulting with a qualified HVAC professional can provide valuable insights to help you make an informed decision. Keep in mind that the goal is to ensure a comfortable and energy-efficient indoor environment while aligning with your budget and long-term goals.