Most condenser and evaporator coils used today are made of copper tubes and aluminum fins, but some manufacturers have started to use aluminum for both their coils' tubes and fins. There is currently a big debate in the HVAC industry about the pros and cons of aluminum tube vs copper tube coils.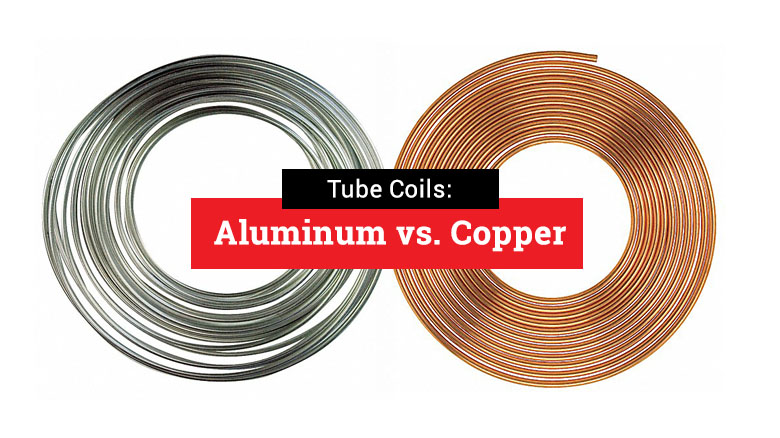 Copper is the preferred metal for coil tubes due to its superior conductivity, strength, and durability. Looking at how the HVAC/R coil manufacturing process works, the price of copper has risen significantly over recent years, causing more and more manufacturers to start producing coils without the material. When compared to copper, aluminum is extremely affordable, even though it transfers two times less heat than copper.
Comparison: Pros & Cons Aluminum Tube vs. Copper Tube Coils
When choosing to use aluminum tube vs copper tube coils in an HVAC system manufacturers have to consider the cost, efficiency, corrosion risk, ease of repair, and durability. Copper is still the preferred metal for making AC coil tubes. However, its price has risen over recent years, reaching over 3 times the price of aluminum (USD/ton) recently.
Winner: Copper has a higher heat transfer coefficient than aluminum. This makes copper a better choice for transferring excess heat in the coils to avoid overheating and malfunctioning of air conditioning units and refrigerators. Overall helping to prevent heat loss.
Winner:  Formicary corrosion and galvanic corrosion are common issues for coils made of copper tubes and aluminum fins. Although they can be prevented by proper maintenance, protective coatings, cleaning on a regular basis; and when they do happen, they are easy to repair. Aluminum tubes have oxidation protection that copper does not have, making them extremely resistant to formicary corrosion, and when a coil is made of only one material it is not subject to galvanic corrosion.
Winner:  When a copper-tubed coil is damaged in the field, it's easy and economical to repair, and it almost never requires an entire coil change, that is not the case with aluminum-tubed coils.
If an aluminum tube gets damaged the repair would involve special materials, take a long time, and contractors are usually unable to perform it on site.
Winner:  Copper's tensile strength is approximately 40% higher than that of aluminum. Copper also has a lower thermal expansion coefficient. What that all means is that copper will get damaged or break less often than aluminum. Due to the fragility of aluminum its difficulty to repair, many air conditioner manufacturers include a heavy-duty cabinet to protect the aluminum-tubed coils, making cleaning the coils a very difficult task, which lowers their durability.
Conclusion
It is essential to understand the role and importance of materials when choosing condenser and evaporator coils. Both copper and aluminum come with their own benefits, however looking at the overall characteristics it's clear that copper-tubed coils are more efficient, easier to maintain, and longer-lasting than aluminum-tubed coils.
Contact us today by calling (800) 421-7070 to learn which solution will work best for you and your business.